Summary of MOZILLA CARNIVAL 2012
Pune, India
September 15
Background:
To celebrate the success of all the Summer Code Party events in India, Mozilla Carnival was hosted as one big closure event(pan India), the idea was initiated by the community members from Pune. Over the past few months the community members from across the country hosted several code party events, got together, made things, played with the Webmaker projects, and learned a lot. These include MozParty Pune,  BVP Delhi,  IIT Delhi,  Anthiyur,  Erode and many other. Mozilla Carnival was celebrated along with the Software Freedom Day on 15 September at SICSR, Pune.
Several contributors including, Mozilla localization team, Student reps, SUMO contributors, Mozilla Reps [1] participated in the event. The focus of the Mozilla Carnival was on: Mozilla Mission, Mozilla projects, Webmaker, Localization, Software Freedom Day, WoMoz(Women in Open Source & Mozilla) and informal Mozilla India community meetup. This was the first time some of the community members met each other!
The event is a grand success and is by far our best organized community event. Around 96% of the participants listed in the feedback form that they are satisfied with the event and learned something new! It could not have been possible with everyone's effort. The commitment of the community members from Pune is above the bar, that include receiving attendees at the railway station at 1.00 AM mid-night! The venue, SICSR played a major role in the success of the event by helping with the venue, logistics and its amazing student volunteer team who looked into almost every detail.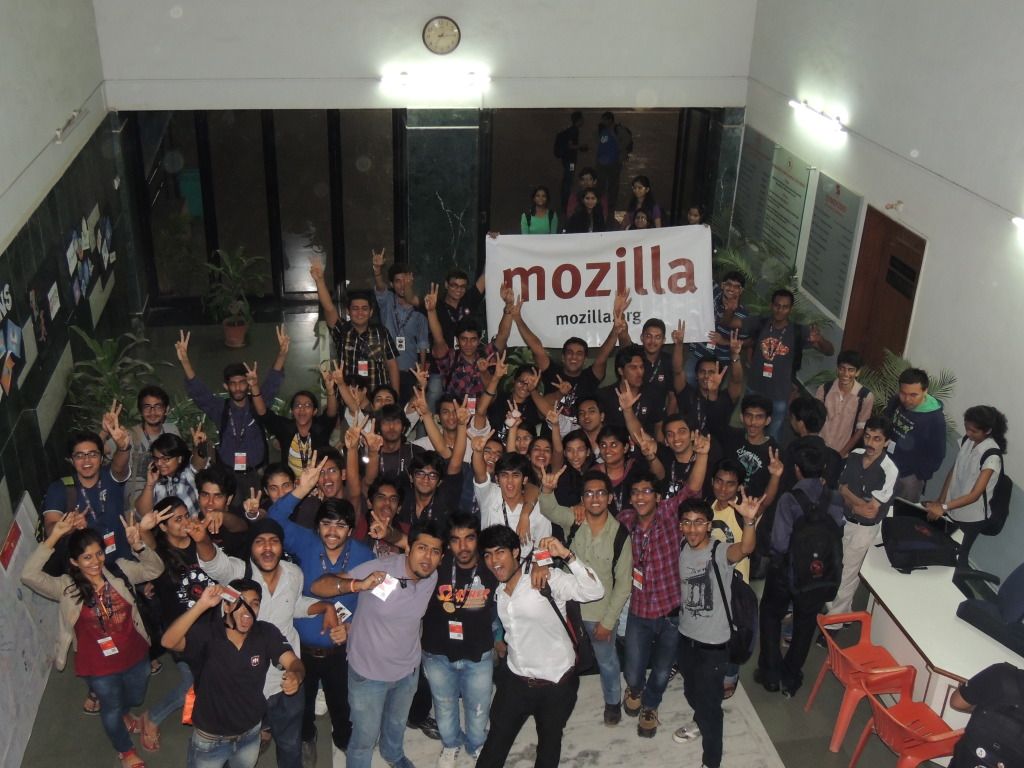 Event Format:
Webmaker Projects: Let's build something awesome on the web! — Gautamraj Elango
about:config – Tweaking Firefox the way you want! — Anwesh Mishra
Informal community meetup:
14th & 15th evening was filled with discussions, sharing ideas, projects, questions, get-to-know each other from the community India.
Attendees: Community members include: Rajesh Ranjan, Soumya Deb, Saurabh Shah, Sayak Sarkar, Faisal Aziz, Ankit Gadgil, Vineel Reddy, Ashish Namdev, Komal Gandhi, Sara Khan, Aman Alam, Krishna Kumar Deep, Anwesh, Meraj Imran & Hema Bhanu.
High Level Takeaways:
Reviving the Mozilla Student Reps program in India

The program is important to recruit, nurture and grow the new generation of contributors.
A featured page at mozillaindia.org (example: students.mozillaindia.org)
Tools & Resources will be adopted from the main program, but should be able to build new tools to suit the local needs wherever its a priority
Collaborate directly with Mozilla Reps from a region
Creating identity

Profile creation like reps.mozilla.org
Anyone can create a profile, a Mozilla India Project Mentor or a Mozilla Rep can vouch the profile.

Project specific Mentors to help local contributors get enough guidance and motivation

Community member having expertise and willingness to help can be asked to take up the role
Giving responsibility to the community members
A few project areas that relate to activity in the region:

(if a new project gains momentum in the region, community member having expertise and willingness to help can be asked to take up the role)
(this is the basic idea, a proposal need to be worked on how this can be taken forward)

Building local community's is important

The knowledge, resources can be distributed to new areas to grow local teams
Host events, workshops and collaborate with colleges, schools to take the mission forward

Events

Plan and collaborate on events where ever possible
focus on developer events and grow a community of developers for projects like B2G, Firefox Desktop & Mobile.
directly related to the above point – Building local communities is important
Work on Standard Operating Procedure(SOP's) for commonly hosted events in the country(example: L10n Sprint, Add-on development workshop, SUMO documentation sprint, Webmaker event, Full day events like Mozilla Mania).
These event SOP's will have all the details regarding the event agenda, questions, requirements, logistics involved and anything a person needs to know if they want to host such a event in their region/ college.
Publish the event formats at the website so anyone interested can request the Community in India to host a said particular event.

FAQ

build a solid set of documentation on FAQ's for the regional community

Website(s)

continued work on drupal theme for mozillaindia.org as part of the MCS~drupal project
Feature Firefox versions available in various Indian languages.
Flickr cloud
Pod casting
With the group discussion, for the benefit of the community in large, a list was made on the activities that can be done at the community website(mozillaindia.org):

Community Management
Umbrella for local communities
Planet and direct blogging
Events Calender
Idea sharing, event summaries, project planning/execution, so that the content is made available to a larger audience and people who read it may get inspired to do the same at their region.
Interest groups
Profile and ID, Vouching/badges, tags for interest groups like mozillains.org
Documentation, Support, News tools and resources should be built central making sure the community members are not duplicating on the efforts. This also helps new local communities not to start from scratch.
a community resource, platform that can be used by any member, teams to take the Mozilla mission forward in the region
References related to Mozilla Carnival:
Registration Links:
Blog posts/ Summary:
Slides:
Social:
Photos:
Media Coverage:
Random ideas:
Plan for a Mozilla India tour and community meetup in January – February 2013
Re-work on the Mozilla India Mascot Design Challenge
Plan on campaigns and ideas to engage with a variety group of users, audience with a focus on Mozilla's organizational goals(B2G, Firefox OS(marketplace), Firefox for Desktop & Mobile, Grow Mozilla)
Highlights:
Overall, the event and the community meetup was very productive and our local community looks more promising than ever.